Race Report
---
Pucklechurch 10k - Jules Dunn
Cast your mind back to when we actually ran organised races with other people…..ah, those were the days! It was a very cold morning in January 2020 and three of us were marshalling the Doynton Hard Half marathon – Lucy, Leanne and Jules. Three others in our little group were marshalling different areas of the course (Pete, Vic and Dom) and another was actually preparing to run the thing (Mandy - the mad fool). The three of us at our marshalling point were all set to go – we were in position, fancy dress on and signs in place.
We had a few minutes to spare before the first runner was due to come past so we decided to enter the Pucklechurch 10K which would be held on Sunday 11th October later in the year – the entry system opened that morning. We decided it would be funny to sign the whole group up as well, so they'd have no choice but to run it with us. We didn't know some of the exact personal details so Vic's birthday was slightly amended and she became our oldest ever running club member which was, of course, hilarious at the time.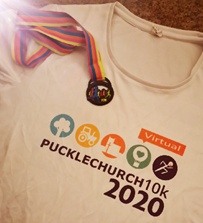 Fast forward nine months and the Pucklechurch 10k was cancelled, along with everything else this year due to the pandemic. We were invited to run a virtual race instead and t-shirts & medals would be posted after the event. We had a window of anytime between October 11th and Oct 31st to complete the run and upload to the race Facebook page. It took a while for us all to get a date together but on Thursday 22nd five of the group (me, Vic, Pete, Dom & Leanne) set out from Pomphrey Hill at 6.30pm in the cold & dark to complete an out and back 10k along the cycle path. It was fairly unremarkable as 10k's go – but good to be out and running in a (small) group all the same.
T-shirts and medal turned up not long after. We're still waiting to hear if Vic won the age grading category 😁