Chairman's Chat
Hello Everyone
Last month I sent out an email appeal for more members to become Run Leaders. We were in danger of losing our Loopy Tuesday sessions due to a lack of qualified Run Leaders available and willing to lead the night. I was delighted with the response - no less than 10 members got in touch - this was very much appreciated. This all but guarantees the future of Loopy Tuesday (subject to everyone getting qualified and stepping into the breach and you lot being nice to them!). We'll continue to function with cover from existing Run Leaders (guys and gals thank you for your continued assistance and look to transition new Run Leaders into position in the Spring.
But having 10 new Run Leaders also opens up more opportunities..... Currently, in addition to Loopy Tuesday, we are discussing the creation of a weekly "Sunday Social" run and re-invigorating last year's investigations into setting up a EGRC Juniors section. We'll tell you more about these in the coming weeks and months when there's more to report. And lastly, we are looking to increase our race portfolio - we should be in a position to give some news here early in 2020.
Running is therapy.
There's a lot of focus on mental health at present and I am sure that you all know that running and indeed many sporting activities are a great way to free your mind from day to day issues. We are all busy people with work, family and other commitments and sometimes it helps to just take yourself away from pressures for a short time.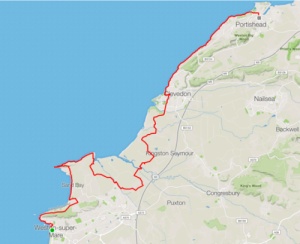 Last week, I had a day off work. I wanted to run and I wanted to run somewhere different. I ran to Bristol Parkway and jumped on a train to Weston-Super-Mare. I planned to run back to Bristol. I had the vaguest idea of routes (keep the sea on the left) and by 10.00am I was underway. I ran because I enjoy running, I enjoy seeing new places and I enjoy a bit of challenge. I ran up lanes, down woodland trails, through fields and farms, over bridges, rocks and sidestreets. I said hello to dog walkers, cyclists, other runners and old ladies at a bus stop. I saw the sea, beaches, coves, horses, walkers, piers, flowers, islands, corner shops, lovely houses, boats, trees, a lighthouse, cows, pretty villages, kites (the bird-kind), lambs and sheep. I sang, I smiled. 25 miles later, I was too knackered to continue but I had loved it. In Portishead, I was miles short of Bristol and I ended up catching two buses to get back to Emersons. It was dark when I got home and I got "the eyes" from Jen as I hadn't done an ounce of housework. I went to bed tired but happy.
Sometimes, you just need to park your busy life and find a little bit of freedom. When you are feeling the pressure, don't run away, just go for a run, it might just help.
Stay happy.
PS Hope to see many of you at the Christmas Party!
Neil - Club Chairman