Captains Corner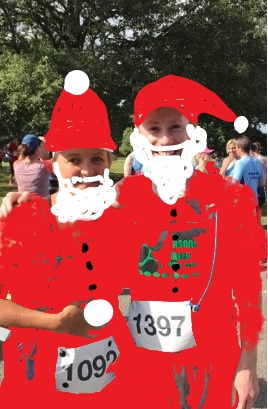 Graham and Wendy here! To bring you up to speed (see what we did there?) with all things EGRC!
So December is here! Winter is here! Where has the year gone? Bust out the hats, bust out the gloves - roll on lovely crisp fresh air! Now that it's dark by the time we get home, it can be tougher to motivate yourself to get out there. But that's where we come in! With some friendly faces and some fabulously varied training sessions - what better way to spend a Mon, Tues or Thurs eve than with EGRC!?
So what have we all been up to? Well first we need to cast our minds back a bit. Around one month ago, one marathons length north east of our fair city, 20 or so brave EGRC marched forth into the heart of the Cotswolds - to a quaint market town called Stroud. Shop - they did not! For the town - 'twas shut! The locals were all out cheering or running instead! Run - they certainly did. 13.1 lovely scenic country miles. What a lovely course it was. Pretty flat with a few undulations and evidently a PB course! Well done to all who took part. If you missed it - it's definitely one to give a try, whether you just fancy a jaunt into the country or whether you want to have a pop at the PB.
To November! .... and EGRC went over the bridge to Welsh Wales. Not once - but twice! For the Severn Bridge 5 mile night races. Well done to all that took part. Especially well done to our prize winners in Race 1 was Jo Bereza (2nd lady) and in Race 2 Jack Pitcher (3rd overall) & Emily Jefferies (1st lady) ... Amazing!! And a special congratulations goes out to the ladies team that came 4th overall in Race 2 – Emily, Wendy, Hayley Franklin and Ruth Kavanagh – what a fab team effort. A fantastic race and perfect for PBs!
A bit closer to home - betwixt and between Bristol and Bath - 23 humans and one canine ventured forth into the wilds of Keynsham and Compton Dando. As this was our replacement of the cancelled Trowbridge 10k, this was our first offering to the club champs so needless to say, we were quite excited! The Keynsham Dandy! A 12.5 mile jaunt through the countryside, over muddy fields, trails, hills and through freezing cold rivers. Ohhh the rivers. I think the organisers were definitely liberal with the term 'river crossing'. We had thought they'd meant width ways - not length ways! Poor old Harry had to be carried! Fear not people, he was the canine. Plus - we won the EGRC v Bitton Mob match! Result. A thoroughly enjoyable, if challenging, morning was had by all. Don't worry everyone, there's no champ races as tough as that next year. Ahem.
Speaking of mud and fields and countryside betwixt and between Bristol and Bath - we come to Doynton! With less than 2 months to go until this gem in the EGRC calendar - our very own Doynton Hard Half Marathon (DHHM) - a dozen or so of us thought it only fitting to have a run out on a Friday evening to see the newly reopened Doynton Cross House Inn pub. What a lovely pub it is! Well worth a visit if you get the chance. Hopefully you all will on Sunday the 19th January! As we trust that you'll either be running or marshalling the DHHM! Entries have long since sold out but we do still need marshals or helpers. So please see the website if you're free and willing!
Now if you were out and about around the Mangotsfield / Staple Hill / Fishponds area on Sat 23rd Nov - you'd be forgiven for having a double-take. Was that a lady in a yellow dress, looking rather similar to Belle from Beauty & The Beast, running down the high street followed by a couple dozen EGRC chaps in garish running gear? Hang on a minute. In the words of Caitlin from the Jungle.... Dude looks like a lady!! 😊 We cannot finish this Caps Corner without a shout-out to the legend that is EGRC member Jack Pitcher. For being a thoroughly good sport on his surprise EGRC Stag-do. Aside from frightening a few children, ('Mummy - was that a man?') and a few locals eyeing him up - he lived to tell the tale. A comical if surreal day was had by all. If you dare look at the photos - see the #TeamEGRC Facebook page. (Sorry JP!) Thank you for those that contributed to proceedings and a special thanks indeed to Emily Jefferies for, well, taking him on! :)
We hope to see you at Thurs Club on the 12th Dec for Light Up The Night - the last chance for us to raise some money for this years Club charity - CRY. Then 2 days later (Sat at 7.30pm) we hope to see you at Pomphrey without your spandex / running gear for the EGRC Festive Party! It would be lovely to see as many of you there as possible for our end of year bash. Please buy tickets via the #TeamEGRC Facebook page asap if you haven't already! We'll have a Captains Boys V Girls game (gulp!), our London Marathon prize draw, dancing, a few shandies / babyshams and general fun times. Hopefully see you all there!
Happy running all!
Graham & Wendy