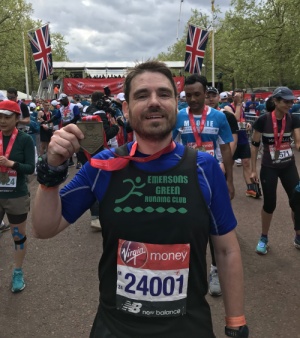 London marathon report - April 2019
Tom Kavanagh
---
As some of you will know, when the London Marathon magazine comes through the door in October, it's often a sad day for most of us. While I have been lucky enough to have run London a few times before, 2019's ballot entry was again another no for me.
However, this time, it had meant a lot more, as I was supposed to have run London earlier that year (2018). Due to breaking my leg badly and experiencing a nasty bout of cellulitis at the end of the previous year, doctors told me I wouldn't have a chance to run and should be grateful if I was able to walk properly by then.
This news was a bit of an incentive to a pig-headed person like me, so I started to enter other marathons for the year ahead like Berlin (but didn't get a place, again) Manchester and Derry/Londonderry (Northern Ireland).
I also entered the club ballot for London 2019, and to my surprise, this time my luck was in! However, as most might know from the ballot draw at last year's Christmas party, I wasn't celebrating like others might have done if they had won. And this was down to the fact that I had just booked my wife's birthday party that week for the night before the London Marathon, and she was giving me the look of death as I read out the slip from that Kinder Surprise.
So after many days of 'discussing and negotiating' with Ruthie, and many calls to the party venue and others, she gave me the best birthday present by agreeing I could take part (and stopped me from sulking like a big child).
Now the hard work had to start, which luckily already had as Manchester marathon was four weeks earlier than London. So as preparation had already started I had also signed up to the Bath and Weston-Super-Mare half marathons, and while they went well, Manchester came around very quickly, but I felt it would be alright. After all, I had been out for a few training runs with Jack, Emily and Jasper, so surely I was well prepared!
April came around so quickly. The birthday party planning was all done, and the party went off at Pomphrey without any hitches. I left the party at 23:00 to hit the M4 and hoped to be in bed by 1 am. That's of course if everything goes to plan...
...and of course, it didn't. I get to Reading to find out that the motorway is shut so I had to detour on to the M3 to get to Canary Wharf where I was staying with friends. This was a delay I could have done without. The strangest thing was when I was driving on the London Marathon course at 1:30am thinking "In less than 8 hours I'll be running down this road" and wished I'd be getting more sleep, rest and food.
Just after 2am, I arrive at my friend's apartment luckily he was in the car with me so I didn't feel so bad it was so late. I hit the sofa and was asleep just before 3 am.
6:30 am comes around way too quickly, but I knew I had to be up straight away or I'll just drift back to sleep and not get up at all.
After a light breakfast and a shower, I was out the door and walking toward the DLR by 7:15. I would recommend anyone that gets the chance to run London that Canary Wharf is a good base as it's easy to get to the start line and back at the end of the race.
The DLR and Blackheath trains were rammed with runners and supporters, and it was exciting looking at all the different runners and expressions on their faces. With the mass of people all walking towards the holding pen, which only runners are allowed to enter, it becomes all too real.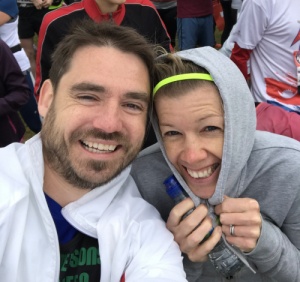 Once through and with some time before the race starts, I met up with Jon Doyle, and a friend's wife over from Dubai who was running her first marathon. I said I would start a few pens back to stay with her through the start and to be honest, it was nice to talk to someone, while you take the 30 to 45 min slow walk to the start line due to the number of people.
You cross the starting line, and the adrenaline is pumping. The feeling is truly out of this world, as there are so many runners and supporters, there's no wonder this is said to be the best marathon in the world.
Running goes smooth for the first 12 miles, after which I slowed down to see how my friend was getting on. However, when I turned around while running, I felt a twist in my knee, which really hurt. I carried on for another 3 to 4 miles at a slower pace. The crowd were cheering and were pulling me along; however, it was getting harder as it was sore and hurting more and more with every step. And because of a lack of sleep, I was also getting more grumpy with every mile.
I was getting close to the 18-mile mark with is through Blackwall tunnel, which I've only been able to run through once before as a lot of people including myself stop and walk for a rest or take a pee as no supporters can see you for 150-200 metres. Regardless I pushed through and slowly ran through start to finish of the tunnel to a great cheer from the supporters which left a warm glow of happiness inside. With the last 7 miles remaining I carry on pushing but at around 20 miles, I have to stop to ask for some medical assistance for the first time in a race to get some deep heat applied to my knee to see if it will help. Not sure if it was the sit-down rest or a placebo effect of the deep heat, but I pull myself off the chair, which was no mean feat to get up and get moving for one last push again.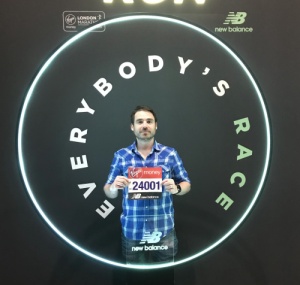 You know you are getting close to the end as the support intensifies and becomes 4-5 people deep and you can see the London Eye on the other side of the embankment, and you know you are less than a mile from the finishing line. The mile markers from 23 to 26 are hard to see as so people are blocking them and, so you dig deep and carry on.
You know you're close to the finish, you find this magical energy/adrenaline to cross the line at Pall Mall, which is now in sight.
When you cross the finishing line, you want to look happy and joyful, or in my case just thankful that the finish is here. Yes completed, not the best run but finished in 4:46:46. Thank you EGRC for the opportunity.
Now time for some sleep.
Good night.